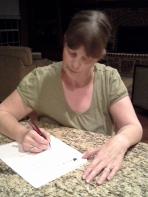 Alayne is a graduate of the Institute of Children's Literature (ICL) course in Writing for Children and Teenagers. After nomination by the ICL faculty, Alayne also completed their advanced course in Writing and Selling Children's Books.

Other Completed Courses:

Intensive Picture Book Course with Anastasia Suen

Making Picture Book Magic with Susanna Leonard Hill

Mira Reisberg's and Marsha Diane Arnold's Writing Wonderful Character-Driven Picture books course through The Children's Book Academy.

Courses Alayne is currently taking:

Emma Walton Hamilton's Just Write for Middle Grade and Chapter Books

Mira Reisberg's and Hillary Homzie's The Chapter Book Alchemist course through The Children's Book Academy.

Alayne is a member of the Society of Children's Book Writers and Illustrators. She is an active participant in the 12 x 12 writing community, an annual participant in the Picture Book Idea Month challenge and a member of many other writing groups. She is the founder and administrator of Sub Six, a Facebook group intended for supporting and motivating picture book writers with their submission goals. In 2014, she launched the blog series
ALL ABOUT SUBMISSIONS
where a team of experienced writers answer other writers' questions regarding submissions. She is also a contributor to
KidLIt411.com
and a member of Marcie Flinchum Atkins'
WE'RE ALL IN THIS TOGETHER
blogging team who answer monthly questions about writing.
After twelve years of helping women move toward their desired lives, Alayne recently hung up her life coaching hat to focus 100% on her writing career. Alayne often combines her coaching skills with her writing knowledge when giving critiques and writing blog posts.

Alayne has been happily married for thirty years and has one adult child, one granddaughter and one cat. She currently resides in McKinney, Texas.

Her book "Butterfly Kisses for Grandma and Grandpa" is available in bookstores and libraries, and
Amazon.com.
It is also available at Baker & Taylor Books and Follett Library Resources. For more information on "Butterfly Kisses for Grandma and Grandpa," art projects, and Alayne's story "Making Peace with Being a Long-Distance Grandparent" visit
butterflykissesgrandparents.com

Represented by
Erzsi Deak, Hen&ink Literary Studio
, Alayne Kay Christian is an award-winning children's book author, a certified life coach, and a blogger. Her independently published picture book,
"Butterfly Kisses for Grandma and Grandpa,"
Blue Whale Press, LLC, received the Mom's Choice Awards gold medal and an IPPY Awards silver medal. The anthology, "Jingle Bells: Tales of Holiday Spirit from Around the World," Melusine Muse Press, includes two short stories by Alayne, "Christmas Spirit" and "Christmas in June."
Alayne Kay Christian

Award Winning Children's Book Author

Alayne is available for school and library visits and speaking or readings at special events.