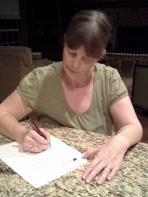 Other Completed Courses: 

Susanna Leonard Hill's Making Picture Book Magic

Ann Whitford Paul's Writing Picture Books Live Course

Emma Walton Hamilton's Just Write for Middle Grade and Chapter Books

Mira Reisberg's and Hillary Homzie's The Chapter Book Alchemist course through The Children's Book Academy

Intensive Picture Book Course with Anastasia Suen

Picture Book Master Course Writing and Editing with Karla Valenti

Renee M. LaTulippe's The Lyrical Language Lab: Punching Up Prose with Poetry

Kristen Fulton's Nonfiction Archeology Course (picture books)

Mira Reisberg's and Marsha Diane Arnold's Writing Wonderful Character-Driven Picture Books course through The Children's Book Academy

Andrea Brown Literary's Big Sur at Cape Cod May 2016 Children's Writer Workshop Weekend

SCBWI Workshop Tammi's Top Picture Book Writing Secrets with Tammi Sauer and Janee Trasler

Sudipta Bardhan-Quallen and Kami Kinard's Kid Lit Summer School: Building Characters

Sudipta Bardhan-Quallen and Kami Kinard's Kid Lit Summer School: The Plot Thickens

Children's Book Academy Workshop, Rules to Break and Make Your Picture Book with Ariel Richardson, Miranda Paul, and Mira Reisburg

Various webinars and SCBWI conference workshops on writing children's books

Alayne is a member of the Society of Children's Book Writers and Illustrators. She is a speaker and presenter on the topic of kid lit writing. She had her debut SCBWI conference presentation in 2018 at the North Texas conference. She was an active participant in the 12 x 12 writing community for seven years. She's an annual participant in the Story Storm challenge and a member and participant of many other writing groups. She is the founder of 
Sub Six
, a Facebook group intended for supporting and motivating picture book writers with their submission goals. In 2014, she launched the blog series 
ALL ABOUT SUBMISSIONS
 for which a team of experienced writers answers other writers' questions regarding submissions and 
ALL ABOUT PLATFORM BUILDING.
 She was also a contributor to 
KidLIt411.com
 and a member of Marcie Flinchum Atkins' 
WE'RE ALL IN THIS TOGETHER
 blogging team who answered monthly questions about writing.
Alayne has been happily married for 40 years and has one adult child and one granddaughter. She currently resides in Texas.

Her award-winning chapter book 
Sienna, the Cowgirl Fairy: Trying to Make it Rain
 (the first in the Sienna series) is widely available in bookstores, libraries, and online stores, including 
Amazon.com,
Barnes & Noble
, and the 
Blue Whale Press bookstore
. To learn more about 
Sienna, the Cowgirl Fairy: Trying to Make it Rain
 and the next book 
Cowboy Trouble
click here
.
Her award-winning picture book, 
Butterfly Kisses for Grandma and Grandpa,
 is available in bookstores, libraries, and 
Amazon.com.
 It is also available at Follett Library Resources. For more information on 
Butterfly Kisses for Grandma and Grandpa,
 art projects, and Alayne's story 
Making Peace with Being a Long-Distance Grandparent, 
visit 
butterflykissesgrandparents.com
Alayne Kay Christian

Award-Winning Children's Book Author

Alayne is available for school and library visits and speaking or readings at special events.

All content copyright 2019 Alayne Kay Christian

Alayne Kay Christian is the former acquisitions editor and art director for
Blue Whale Press
 and an award-winning children's book author. She is the creator and teacher of a picture book writing course, 
Art of Arc
. She shares more of her knowledge and tips for writers through 
Writing for Children Webinars and Courses
. She has been a professional picture book and chapter book critique writer since 2014, and she worked as a 12 X 12 critique ninja for three years. Alayne is a graduate of the Institute for Children's Literature. In addition, she has spent the last eleven years studying under some of the top names in children's literature.